The Best of Both Worlds: How Mothers Can
Find Full-time Satisfaction in Part-time Work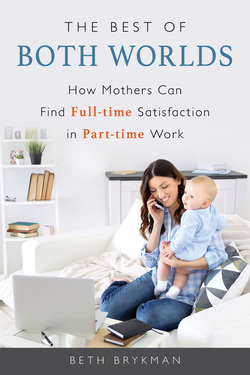 How can mothers bridge the gap between the worlds of "mom" and "career woman" to find work-life balance? By working part-time. This informative guide tells both stay-at-home and full-time working mothers how they can reengage or redefine their careers while still having time to care for their children.

This is the perfect starting point for mothers who want to learn how they can fulfill family needs, earn income, and gain self-satisfaction.

Reviews
"The Best of Both Worlds is a must-read for women in and out of the labor market. It's full of insights and real-life examples of women who have made tough decisions about their careers and family life. This book is a step-by-step guide to part-time success in today's rapidly changing economy."
—William Bloomfield, PhD, founder and managing partner,
Civic Strategies Partners

"Where was this book twenty-five years ago, when I was frantically trying to juggle family and career responsibilities? Beth Brykman's insights into the working woman's quest for a balanced life shine a light on what is possible, desirable, and achievable once we calm our minds and look at the bigger picture. Brykman delves into this subject in an honest and straightforward way."
—Mary S. Harpenau, partner/executive art director, ACG Multimedia

Available in paperback and e-book formats at Amazon, ibooks, Barnes&Noble and all your favorite book stores...
search "The Best of Both Worlds Brykman"

---
Second Wind: The Resilience of Women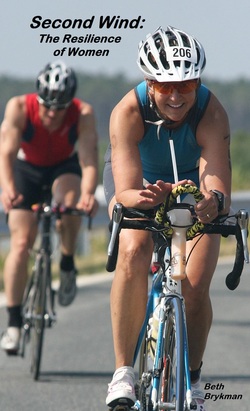 What happens when we're pushed to the edge by life's tragedies? We're overwhelmed and unsure how to handle the pressure. How do we cope? How do we make sure that stress doesn't over take our physical and emotional well-being? What helps us move forward with our lives? Resilience.

Second Wind applauds the ability of women to bounce back from all types of adversity. It's about moving away from crises and going forward again. It's about more than just surviving; it's about making life manageable, meaningful and fulfilling again. It's about women catching their second wind.

Rated 5 stars on Amazon

Available at your favorite e-reader stores including
Amazon, ibooks and Barnes&Noble...
Search "Second Wind Brykman"



---
The Wall Between Women: The Conflict between
Stay-at-Home and Employed Mothers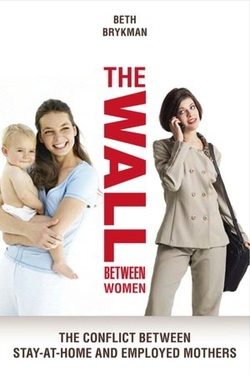 Women today struggle to make difficult choices involving their children and their careers - so why do they simultaneously criticize, undermine, and point fingers at one another? I interviewed more than one hundred mothers, letting these women speak about the realities of their lives, their views of "other" mothers and how they balance the pro's and con's of motherhood. The Wall Between Women focuses not only on defining, analyzing, and explaining the Wall, but also on revealing positive approaches for tearing it down.

Rated 4.5+ stars on Amazon

Available in paperback and e-book formats at Amazon and all your favorite book stores...
search "The Wall Between Women Brykman"


---